Sikhipedia is a free web-based encyclopaedia which features information about Sikhism or Sikhi. Sikhism is the fifth largest world religion. Many free-minded thinkers are finding out about this modern faith system and way-of-life which was only exposed to the western world during the 19th century. Join us here to find out more!
Sikhipedia: You can add a description of this wiki here. You can also fill in the "About" page at Project:About.

To write a new article about Sikhi, enter the page title in the box below.

Where to start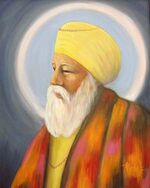 Sikhism: the youngest of the world religions, is barely five hundred years old. Its founder, Guru Nanak, was born in 1469. Guru Nanak spread a simple message of "Ek Ong Kar": we are all one, created by the "One Creator of all Creation". This was at a time when India was being torn apart by castes, sectarianism, religious factions, and fanaticism. He aligned with no religion, and respected all religions. He expressed the reality that there is one God and many paths, and the Name of God is Truth, "Satnam".
Guru Nanak's followers were called Sikhs - which means seekers of truth. He taught them to bow only before God, and to link themselves to the Guru, the Light of Truth, who lives always in direct consciousness of God, experiencing no separation. These songs were recorded, and formed the beginnings of the Sikhs' sacred writings, later to become the "Guru Granth Sahib". The Guru Granth Sahib is a sacred text considered by Sikhs to be their eleventh and final Guru or spiritual guide ....more